ENTRENAMIENTO DE LA FUERZA (ÚNICA) A TRAVÉS DEL CONTROL DE LA VELOCIDAD

El objetivo principal del entrenamiento de fuerza es aumentar la velocidad de movimiento contra cualquier carga absoluta, o contra una carga específica, como mover o desplazar el cuerpo.
Abro hilo 👇🏽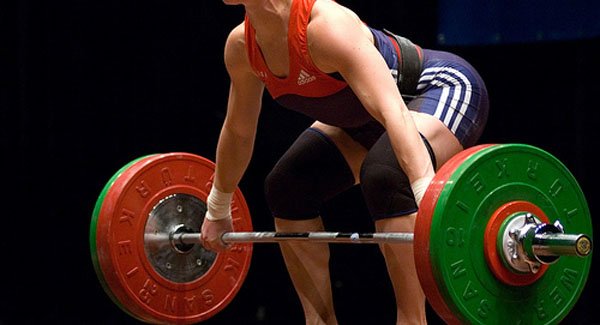 La velocidad alcanzada con una carga es consecuencia de la fuerza aplicada con dicha carga. Por tanto, si aplicamos una cantidad de fuerza determinada ante una carga (moverla a una determinada velocidad) podremos saber qué INTENSIDAD RELATIVA supone.
Validity of Using Velocity to Estimate Intensity in Resistance Exercises in Men and Women - PubMedThis study aimed to examine the validity of using bar velocity to estimate relative load in squat and bench-press exercises for both young men and women. Twenty-five men and 25 women performed a progressive loading test up to 1-RM in the squat and bench-press exercises, which were repeated after 2-w …bit.ly/38krUkp


👇🏽
Cada intensidad relativa (% 1RM) tiene su propia velocidad de ejecución. siendo estable entre diferentes personas, incluso con niveles de rendimiento distintos
Movement velocity as a measure of loading intensity in resistance training - PubMedThis study examined the possibility of using movement velocity as an indicator of relative load in the bench press (BP) exercise. One hundred and twenty strength-trained males performed a test (T1) with increasing loads for the individual determination of the one-repetition maximum (1RM) and full lo …bit.ly/3epffQK


👇🏽
Cada ejercicio también tiene su propia velocidad de 1RM y su propia velocidad con cada porcentaje del 1RM debido a la propia biomecánica (ver foto)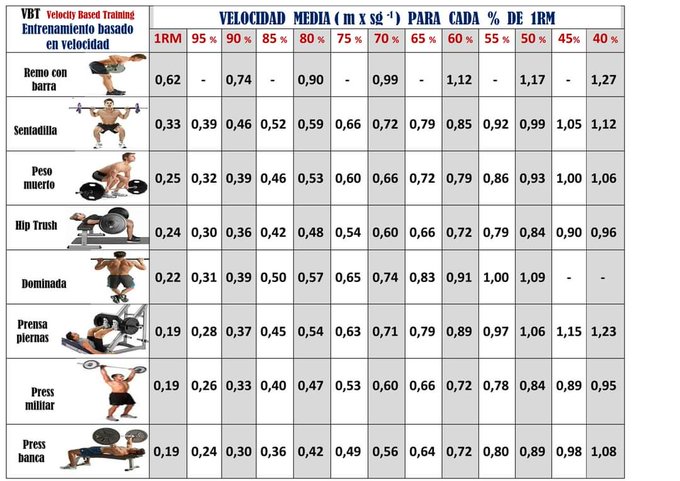 Con el control de la velocidad se soluciona el problema de la variabilidad del 1RM ya que, aunque éste cambie a lo largo de los días, la velocidad a la que se desplaza cada porcentaje permanece estable.
👇🏽
La terminología actual (p.e fuerza máxima, fuerza explosiva, fuerza resistencia..) es inadecuada y engañosa y fomenta la confusión con conceptos erróneos, (p.e intensidad basada en %1RM o volumen expresado en repeticiones por serie o total de series.
Toward a New Paradigm in Resistance Training by Means of Velocity Monitoring: A Critical and Challenging Narrative - Sports Medicine - OpenFor more than a century, many concepts and several theories and principles pertaining to the goals, organization, methodology and evaluation of the effects of resistance training (RT) have been developed and discussed between coaches and scientists. This cumulative body of knowledge and practices has contributed substantially to the evolution of RT methodology. However, a detailed and rigorous examination of the existing literature reveals many inconsistencies that, unless resolved, could seriously hinder further progress in our field. The purpose of this review is to constructively expose, analyze and discuss a set of anomalies present in the current RT methodology, including: (a) the often inappropriate and misleading terminology used, (b) the need to clarify the aims of RT, (c) the very concept of maximal strength, (d) the control and monitoring of the resistance exercise dose, (e) the existing programming models and (f) the evaluation of training effects. A thorough and unbiased exbit.ly/3xH647d

.
👇🏽
Sabemos además que las recomendaciones tradicionales de entrenamiento de fuerza NO son reproducibles en la práctica

bit.ly/3SbHbIUbit.ly/3SbHbIU


👇🏽
El otro componente del carácter de esfuerzo, el VOLUMEN, es lo mismo que la pérdida de velocidad en la serie respecto a la primera repetición ya que es un indicador muy válido para estimar la fatiga
Monitoring Training Volume Through Maximal Number of Repetitions or Velocity-Based Approach - PubMedSetting a number of repetitions had acceptable interindividual variability, with moderate relative loads being adjusted based on the individual load-velocity relationship. However, to provide a more homogeneous level of effort between athletes, the VL approach should be considered, mainly when using …bit.ly/3sWdWwL


👇🏽
Pérdidas de velocidad tan bajas como el 10%-20%, es decir con un bajo INDICE ESFUERZO, significa una mayor eficiencia durante el entrenamiento de fuerza
Velocity-based resistance training: impact of velocity loss in the set on neuromuscular performance and hormonal response - PubMedThis study aimed to compare the effects of 2 resistance training (RT) programs with different velocity losses (VLs) allowed in each set: 10% (VL10%) versus 30% (VL30%) on neuromuscular performance and hormonal response. Twenty-five young healthy males were randomly assigned into 2 groups: VL10% ( …bit.ly/38kueI9

y provocan mayor adherencia en personas no habituadas a realizar ejercicio
Neural Contributions to Muscle Fatigue: From the Brain to... : Medicine & Science in Sports & Exercisetasis can contribute to the impairment of performance during exercise. This review discusses some of the neural changes that accompany exercise and the development of fatigue. The role of brain monoaminergic neurotransmitter systems in whole-body endurance performance is discussed, particularly with regard to exercise in hot environments. Next, fatigue-related alterations in the neuromuscular pathway are discussed in terms of changes in motor unit firing, motoneuron excitability, and motor cortical excitability. These changes have mostly been investigated during single-limb isometric contractions. Finally, the small-diameter muscle afferents that increase firing with exercise and fatigue are discussed. These afferents have roles in cardiovascular and respiratory responses to exercise, and in the impairment of exercise performance through interaction with the motor pathway, as well as in providing sensations of muscle discomfort. Thus, changes at all levels of the nervous system, includbit.ly/3liZATS


👇🏽
Parece que las mujeres requieren una pérdida de velocidad de hasta el 40% (es decir, mayor volumen y fatiga dentro de la serie) que los hombres, para maximizar el desarrollo de la fuerza

bit.ly/3CG4NAybit.ly/3CG4NAy


👇🏽
Por tanto, ajustando el ÍNDICE DE ESFUERZO en cada sesión (producto de la velocidad de la primera repetición y la media de pérdida de velocidad en la sesión) es posible cuantificar el nivel real de esfuerzo de cada persona en los ejercicios de fuerza
Role of the Effort Index in Predicting Neuromuscular Fatigue During Resistance Exercises - PubMedRodríguez-Rosell, D, Yáñez-García, JM, Mora-Custodio, R, Torres-Torrelo, J, Ribas-Serna, J, and González-Badillo, JJ. Role of the effort index in predicting neuromuscular fatigue during resistance exercises. J Strength Cond Res XX(X): 000-000, 2020-This study aimed: (a) to analyze the acute mechanic …bit.ly/38h7Q2h


👇🏽
incluido en entrenamientos de rendimiento como sprint y salto vertical

bit.ly/3DEfUKVbit.ly/3DEfUKV

y debería usarse cuanto antes, por medio de tecnologías para medir la velocidad

bit.ly/2OqDCTobit.ly/2OqDCTo


👇🏽
Y es que lo importante no sólo es entrenar, sino hacerlo lo mejor posible 😉💪🏽